Mental Health and Wellbeing
At Green Ridge Primary Academy, we are committed to supporting children, staff and parents in their well-being and mental health. We know that well-being, physical and mental health are all essential to positive learning experiences and future successes.
Our aim is to provide help, tips and resources to support both adults and children as we recognise the importance of encouraging positive well-being.
At Green Ridge Primary Academy we:
support children to understand and recognise their emotions and feelings through the Zones of Regulation
support children to self-regulate using the Zones of Regulation
encourage children to feel comfortable sharing any concerns or worries
help children socially to form and maintain relationships
promote self-esteem and ensure children know their importance
encourage children to be confident and 'dare to be different'
help children to develop emotional resilience and manage challenging situations
Please see below for our Mental Health and Well-Being Newsletters that provide a basic understanding of how we can help each other to support the emotional well-being and mental health of the school community.
Issue 1 – Summer 2020 – Green Ridge Wellbeing Newsletter (1MB)
Issue 2 – Autumn 2020 – Green Ridge Wellbeing Newsletter (1MB)
Issue 3 – Spring 2021 – Green Ridge Wellbeing Newsletter (1MB)
Issue 4 – Summer 2021 – Green Ridge Wellbeing Newsletter (2MB)
Issue 5 – Autumn 2021 – Green Ridge Wellbeing Newsletter (1MB)
Issue 6 – Spring 2022 – Green Ridge Wellbeing Newsletter (1MB)
Issue 7 – Summer 2022 – Green Ridge Wellbeing Newsletter (1MB)
Issue 8 – Autumn 2022 – Green Ridge Well-being Newsletter (1MB)
Issue 9 – Spring 2023 – Green Ridge Well-being Newsletter (1MB)
Zones of Regulation
Every class at Green Ridge has the Green Ridge Zones of Regulation poster in their class displayed clearly. There are 4 'Zones' to describe how your brain and body feel. The children are encouraged to identify how they are feeling throughout the school day.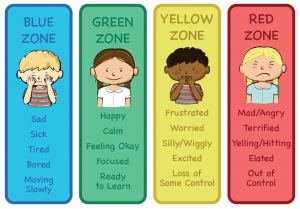 Why teach the Zones of Regulation?
Provides a common language to discuss emotions — a language that is non-judgemental
The Zones of Regulation are simple for children to understand and are helpful for all!
The Zones of Regulation teach healthy coping and regulation strategies.
Understanding Zone Tools
Children learn to use 'tools' to move between the Zones. They encourage the children to identify a range of different calming and alerting strategies/tools that support them. Tools may include sensory supports (from the Calming Kit), calming techniques or thinking strategies.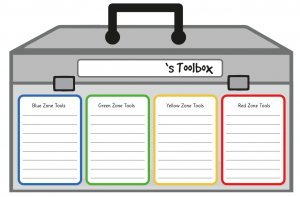 Zones of Regulation at Home
You can support your child/children at home by asking them which zone they are in using: 'I wonder'. For example: "I wonder if you are in the yellow zone at the moment, you seem a bit worried." Naming the emotion will help them with their emotional literacy and show them that you can see they are feeling a certain way.
Other ideas include:
Play "Feelings Charades" – take turns choosing emotions from a stack of cards/papers and act it out using only face and body clues. Guess each other's emotion, discuss which Zone it's in and why. (Added challenge: Name a tool you could use when feeling that emotion).
'Name That Feeling' – whilst watching a film/tv programme, encourage your child to name a character's feeling, discussing which Zone they are in and why.
Children's Mental Health and Well Being Parent Workshop
Places to go for Support and Advice
No matter how difficult things can be, there is support and help available. We have gathered some organisations and websites that offer specialist support, help and advice for a range of difficulties.
Healthy Minds Bucks
This is an NHS Psychological service that offer free support to people aged 18 or over experiencing difficulties such as, low mood, anxiety, employment support, worry, stress or long term health conditions.
You can self-refer by calling 01865 901600 or submit an online referral here.
Child and Adolescent Mental Health Service
(CAMHS Oxford Health)
CAMHS is a free NHS service that assesses and treats children and young people, aged between 0-18 years, with emotional, behavioural or mental health difficulties. For more information you can call: 01865901951 or click here for a referral form and more information.
NHS Every Mind Matters (https://www.nhs.uk/oneyou/every-mind-matters/)
This website from the NHS offers expert advice and practical tips to help you look after your children's mental health and well-being as well as the rest of the family.
Samaritans
Telephone: 116 123 (24 hours a day, free to call)
Website: www.samaritans.org
Shout
The UK's first 24/7 text service, free on all major mobile networks, for anyone in crisis anytime, anywhere. It's a place to go if you're struggling to cope and you need immediate support.
Text: 85258
Website: www.giveusashout.org
Mind
Provides confidential mental health information services.
Telephone: 0300 123 3393 (9am-6pm Monday to Friday)
Text: 86463
Website: www.mind.org.uk/information-support/helplines
Communicate your concerns with school
If you have any concerns about your child's emotional behaviour or well-being, please let school know.